Welcome to Credee
A complete payment options solution for businesses like yours.
We understand that in today's dynamic market, your business requires a payment solution that is innovative, adaptable, and offers convenience to your customers, ultimately making your services more accessible and affordable to all.
With Credee as your trusted payment options partner, you can confidently overcome the challenges and focus on expanding your business, risk-free.
Simplified payment processes

Secure recurring earnings

Attract & retain more customers

Increase sales & grow business
Experience the benefits of our comprehensive payment solution first hand with:
CredeeFi
An ultimate feature that will change the game for your business!
CredeeFi enables businesses to offer payment plans to their customers, irrespective of their credit scores, without any hidden fees. Unlike other traditional financing options that charge businesses every time a payment is received, Credee ensures that businesses get the exact recurring payment amount.
This feature also addresses the issue of the unavailability of traditional financing options for customers who might need services but cannot afford the full payment at once. With CredeeFi, customers can afford the services by paying in convenient monthly installments.
Businesses that use CreedeFi report up to a 27% increase in their revenue owing to no additional interest or hidden fee charged on their contracts.

Also, Credee provides a PAYMENT PROTECTION, assuring businesses receive their payments even if customers miss their payments. By minimizing financial risks associated with payment plans and processing, businesses can focus more on providing quality services to their customers, leading to increased customer satisfaction and sales while ensuring financial security.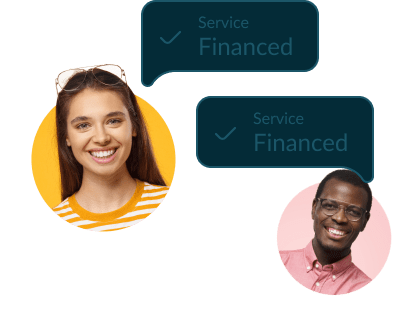 Did you know?
70% of the customers said the ability to pay for services in installments significantly influenced their decision to purchase from a business.
Explore Now
SimpleeFi
SimpleeFi gives businesses the ability to provide No Credit Check payment plans to their customers while enjoying timely payments right from the first month i.e.
NO payment reserves

. In addition, timely payments are PROTECTED by Credee.

This payment plan option is especially valuable for businesses looking to increase their sales by offering more flexible payment options, attracting more customers, and increasing their revenue. Also, this feature is ideal for customers who may not have access to traditional financing options.

While other customer financing solutions charge standard interest rates from your customers, choose SimpleeFi and offer up to 2.33% lower interest rates to your customers, improving customer satisfaction & retention.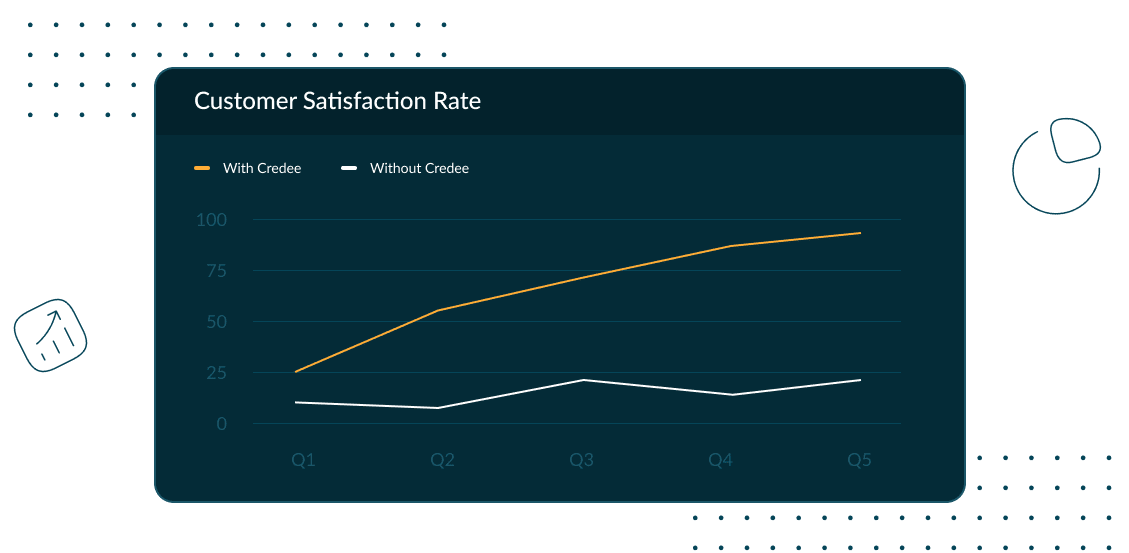 KeepeeFi
KeepeeFi gives you the best of all worlds. Businesses can offer instant, no credit check financing options to their customers while getting the power to
customize the interest rates

they charge on each contract. This makes it possible to create contracts that increase their revenue and meet their customers' unique needs at the same time. Noticeably, Credee doesn't keep any upfront or reserve payments when you use KeepeeFi, which means the business gets paid instantly as soon as a customer makes a payment.

This feature is the best choice for businesses that want to finance their customers with an interest rate of their choice and make it easier for them to make purchases and pay back in monthly installments. It helps increase customer loyalty by providing a seamless financing experience, so their customers keep coming back for more.
Businesses using KeepeeFi have reported a 62% increase in customer loyalty and repeat business in a year, leading to sustainable revenue growth.
Learn More
API HUB
Credee offers seamless integration with existing business systems, enabling businesses to streamline their workflows and improve productivity. Our dedicated support team is always on standby to assist businesses in the implementation process and ensure a hassle-free experience.
Furthermore, businesses leveraging Credee's API Hub under their brand have experienced significant improvements in brand recognition and a 67% boost in customer loyalty.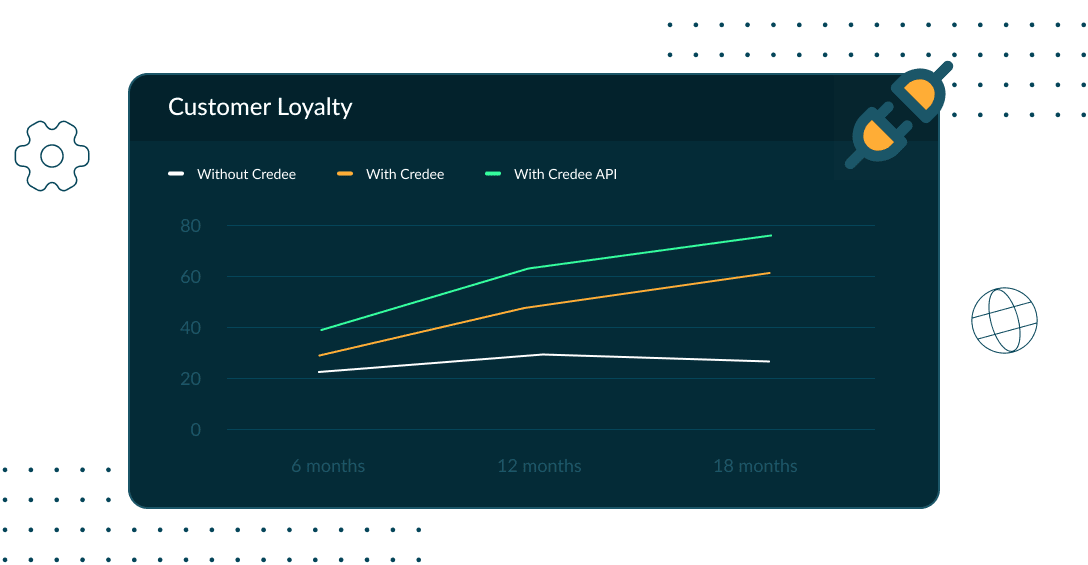 With a consistent and intuitive financing solution, businesses can attract new customers while retaining existing ones, resulting in increased revenue and long-term growth.
Web Connect
Credee's Web Connect offers a convenient solution for businesses seeking to increase sales and revenue 24/7.
By integrating this feature into their website, businesses can offer customers a convenient way to apply for financing directly on their website.
This feature simplifies the workflow for businesses and is easy to use. Contracts can be created for services, which customers can access directly on the website or via links provided to them. The contract terms can be customized to include down payment amounts and payment terms.

Integrating Web Connect can help businesses earn recurring revenue even if customers cannot pay the total amount for the services at once. This feature has the potential to convert potential customers into buyers and grow businesses in real-time.
In fact, a recent survey found that offering a
"
buy now, pay later

" option increased sales by 58% on average.
Credee - A Winning Formula To Empower Your Business & Delight Customers
Credee's payment solutions present a mutually beneficial opportunity for both businesses and customers. By providing accessible financing options to customers, businesses can enhance their sales and improve customer satisfaction.
Customers, in turn, can use the opportunity to pay off their contracts and build their credit score, as Credee reports their timely payments to major Credit Bureaus, thereby achieving their financial objectives.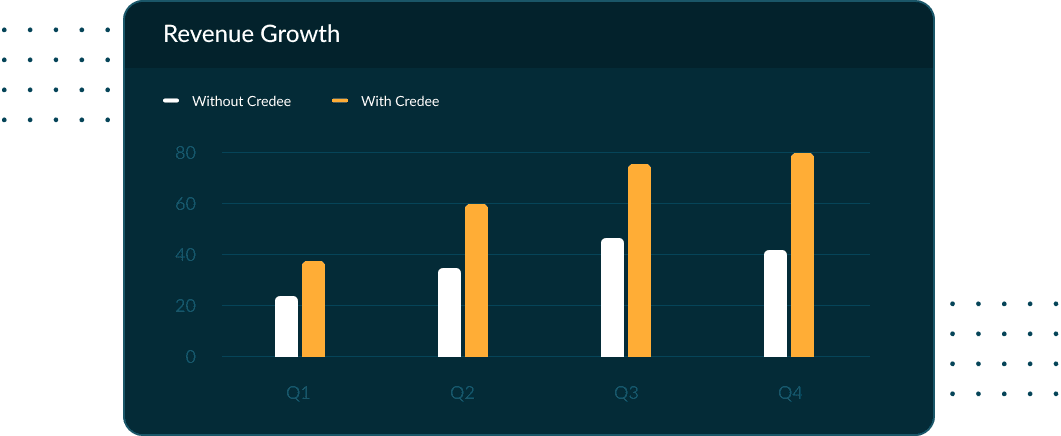 This payment solution serves as a valuable alternative for businesses seeking to offer flexible financing choices to customers while boosting their revenue.
A renowned home improvement company in Los Angeles integrated Credee into its existing system. In just 6 months, the company saw a remarkable 70% surge in sales and improved customer satisfaction levels.
Partner Program:
Enroll in the Credee Partner Program today and start earning commissions on every successful referral. Our sign-up process is simple and quick. All you need to do is register with Credee's Partner Program and submit the required information. Our automated system will create a unique Partner ID for you.

We also provide free training to help you become familiar with the software and enable you to promote it effectively. With our program, you can earn an unlimited income by making smart recommendations.
Every month, more than a hundred individuals join the Credee Partner Program and take advantage of a dependable and secure method to earn extra income.
More than 79% of the new partners have earned $4500, on average, in just 4 months after joining the program.
Subscription Plans:
Credee comes at competitive pricing to suit the needs of businesses of all sizes.

Free
Sign up for FREE and explore how Credee can take your business to the next level and enjoy dedicated email support from experts. You can upgrade to a higher plan anytime.

Silver
Maximize your business potential with advanced features and Silver expanded customer support.

Gold
Say yes to hassle-free customer financing with Credee's Gold premium features, unmatched customer support, and more.
Platinum
Experience the best of Credee and enjoy exclusive features & benefits to take your business to the next level and offer customers a top-notch payment experience.
Fueling Business Success, Celebrating Diversity.
With a global presence in 27+ countries, Credee fosters diversity and creates job opportunities worldwide. Join our platform to bridge the gap between affordability and accessibility for customers across the globe and be part of an inclusive community.

Canada

France

Australia

Italy

United States

India

Germany

New Zealand
Mexico

United Kingdom

Spain

Unlock the full potential of your business with Credee.
Sign up today to streamline your payment processes and boost your cash flow. The automated software empowers you to offer flexible financing options, attract new customers, improve retention rates, and increase revenue like never before.
Take charge of seamless customer financing with Credee – The future is here.
credee.com
version 1.1