Welcome to our August Edition
We're back with better business
opportunities and higher potential revenue.
Team Credee is thrilled to share the latest edition of monthly newsletter with you. Get ready to learn all the new updates, highlights, & more.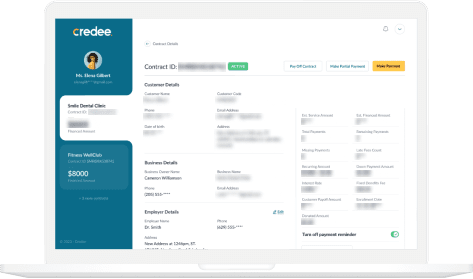 6 Months
9 Months
12 Months
Introducing July's Highlight:
SimpleeFi with Deferred Interest
Protected
Payments*
No Reserve
Payments
Lower
Interest Rates
This month, we are putting the spotlight on our newly launched feature - SimpleeFi with Deferred Interest. Create and offer risk-free* payment plans to your customers and start receiving recurring monthly revenue from the first month, even if your customers miss a payment - thanks to our Protected Payments feature.
SimpleeFi with Deferred Interest allows you to charge no interest* to your customers for the first three months of their contract.
Learn More
Credee's Other Amazing Features
CredeeFi- Finance your customers instantly without stressing over interest or hidden fees.
KeepeeFi- Offer payment plans to your customers and customize your interest rate. Get the flexibility you deserve.
Web Connect- Integrate our automated software with your website easily within a few minutes. Start financing customers 24x7. 
API Hub- Streamline your workflow by integrating our APIs with your existing systems to fulfill all your payment-related needs.
Check Out Our Latest Blog Posts
We are Growing and Helping
You Grow Together
We are happy to announce that since last quarter, we have had 1000+ new businesses join Credee.

  Credee is now helping businesses from all industries easily finance their customers with its no credit check, flexible payment solutions. 

Our clients, on average, have seen a monthly increase of 45% in their revenue since enrolling with Credee.
Canada
France
Australia
Italy
United States
India
Germany
New Zealand
Mexico
United Kingdom
Spain
Credee - Helping Businesses Succeed &
Customers Live Better
Credee constantly endeavors to simplify the complexities of payment plans for businesses and customers alike. We will continue to offer solutions that allow more customers to afford your services, helping boost your revenue. 
Keep watching this space every month for the latest
updates and helpful tips.
Have any questions?
Request a callback, and our team will be
happy to assist you.
Credee © . All rights reserved.